A woman should run Qantas, says Alan Joyce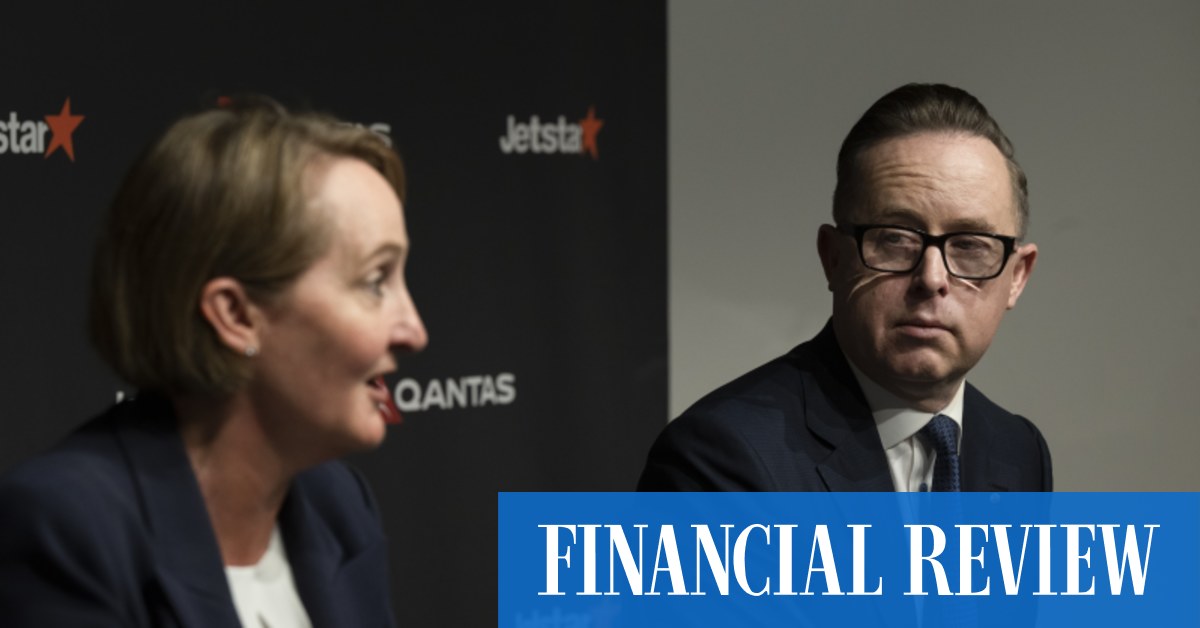 Remarking the night was, in fact, a 103-year celebration, Mr Joyce and Qantas chairman Richard Goyder both singled out reconciliation, diversity and truly "one hop" flights, such as Sydney and Melbourne direct into London and New York (not via Perth or Auckland), by 2025 as the key themes for Qantas' future.
"The most amazing flight I've ever taken was [the inaugural] Perth to London flight in 2018," Mr Joyce said, adding that until that flight, Australia and the United Kingdom had been "the last two continents [left] to be directly linked."
On the issue of diversity, Mr Joyce recalled the 2017 incident in Perth, when a man shoved a lemon meringue pie in his face as a protest against same-sex marriage, which Mr Joyce and his now husband, Shane Lloyd, had been actively lobbying for.
"I'm pretty proud of the role Qantas played with LBGTI diversity," Mr Joyce said on Friday, adding "I'm still a bit nervous about standing on this stage – I'm worried someone will throw a pie in my face."
The continued reconciliation push
"Reconciliation has long been important to the Qantas Group and will be a continued focus," Mr Goyder said in his address, adding that the "only thing more important than Welcome to Country is our on-time performance."
The latest Australian government statistics for February 2023 show the Qantas network (including QantasLink) recorded 78.1 per cent for on time arrivals, with the Virgin Australia network on 73.5 per cent.
With an all-Australian entertainment line-up that included Kylie Minogue singing I Still Call Australia Home along with two of her top hits; a Bangarra Dance Theatre performance, plus numbers by singers Toni Watson, better known as Tones and I, and Budjerah, guests weren't exactly focussed on aviation operational issues.
Former football great Uncle Lloyd Walker performed the Welcome to Country ceremony, with Matthew Doyle on the didgeridoo.
Prime Minister Anthony Albanese and his partner Jodie Haydon were on ground at the event, along with Governor-General David Hurley, National Party leader David Littleproud, former prime minister Scott Morrison, and former foreign minister Julie Bishop.
Business leaders and Rich Listers such as Gina Rinehart, Lindsay Fox, and managing director and chief executive of Macquarie Group, Shemara Wikramanayake, were also on the top tables, along with former Qantas board member Leigh Clifford, who was chairman from 2007 to 2018, and former Qantas chief executive Geoff Dixon who headed the airline from 2001 to 2008.
Former Qantas chair Margaret Jackson also attended. When she was appointed to the position in 2000, it was the first time a woman had been appointed chair of a top-50 publicly listed company in Australia.
In summing up the flying kangaroo's history, Mr Joyce recalled how the company was founded in 1920 by Australian aviators Hudson Fysh and Paul McGinness with just £6000. Today, it carries around 58 million passengers a year, is worth more than $12 billion, and is consistently ranked as one of the world's safest airlines.
History on the menu
Food was always going to play a big part in celebrating a hundred years of the national carrier. Qantas's creative director of food, beverage and service, Neil Perry, reminded the crowd that in the early days, Qantas flights took off with "thermoses of coffee and sandwiches" on board.
"The Next 100" celebratory evening in Hangar 96 kicked off with canapés of devilled quail egg with Calvisius caviar, which was served on the 1970s flights from Los Angeles to Sydney via Tahiti.
For entrée guests were offered either a king prawn cocktail with Marie Rose sauce and tomato jelly, which was plated up on the 1953 Sydney to London service via Cairo, or a terrine of free-range pork with pistachio, dill pickles and green chutney, served in 2019 on Sydney to London flights.
For mains, there was another trot down memory lane via the tastebuds: To the 1962 Sydney to Auckland flight to be exact, aboard which passengers would have enjoyed seared beef fillet with honey glazed carrots, broccoli and café de Paris butter. A modern alternative was also served to guests: the blue eye trevalla with saffron sauce, steamed fingerling potatoes and braised fennel – currently served on the Sydney to Los Angeles route.
For dessert, Mr Perry wound the clock back to Sydney to Singapore flights in the 1970s, putting a modern spin on the passionfruit pavlova served on that flight.