Amazon Mission and Vision Statement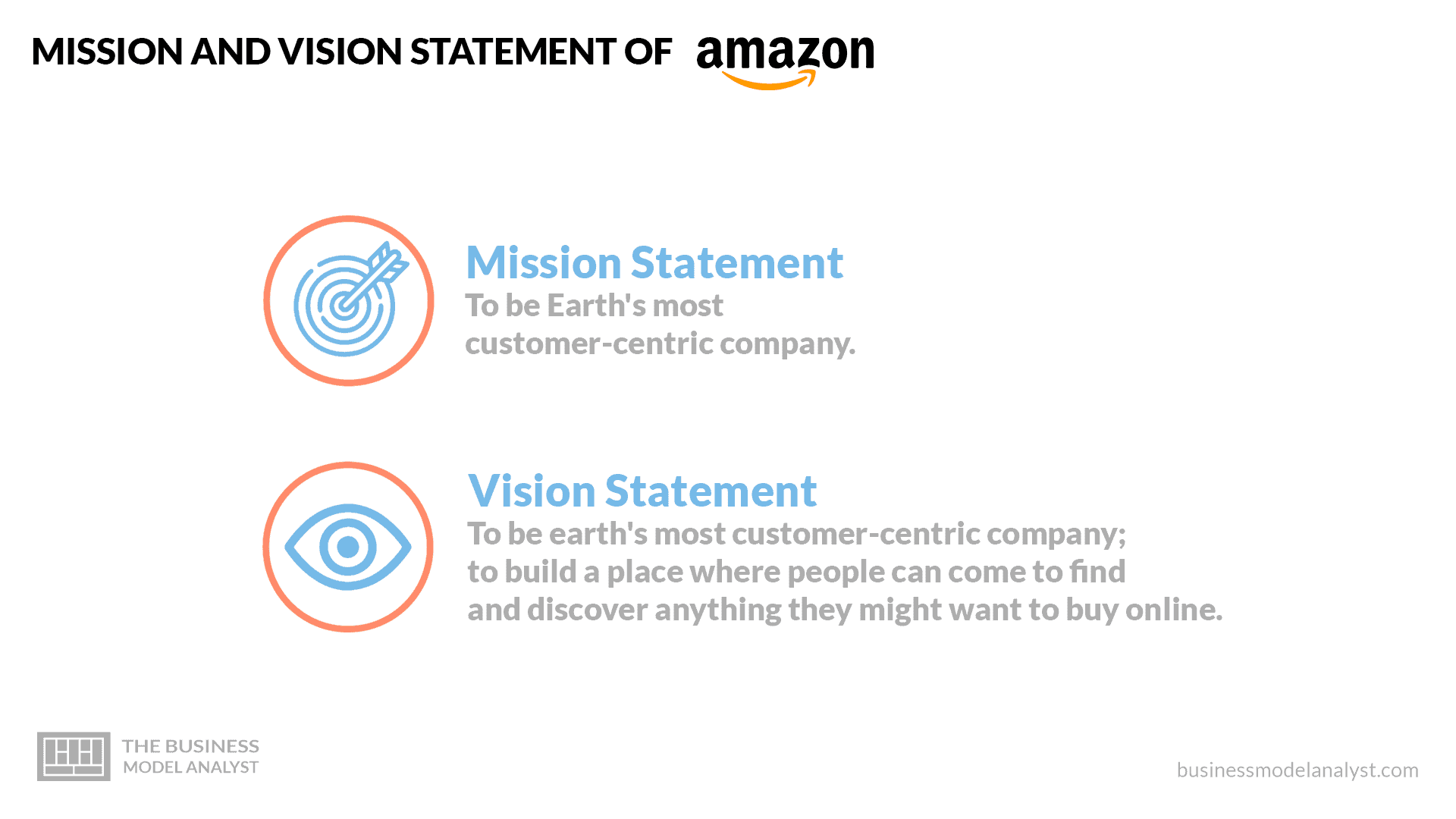 Amazon's mission statement is "to be Earth's most customer-centric company." The company's vision statement is "to be earth's most customer-centric company; to build a place where people can come to find and discover anything they might want to buy online." 
Amazon mission and vision statements set the company on a path to long-term growth and prosperity, providing strategic direction for attaining its goals. The mission statement explicitly emphasizes customer satisfaction by offering a broad selection of products, a strength that is evidenced in their SWOT Analysis. Their vision statement reinforces their commitment to human resource management and workplace safety not just within the online retail industry but beyond, striving for global preeminence in these areas.
Amazon.com Inc. understands that its mission and vision statements are crucial to generate strategies that will enable it to maintain an advantage over rival companies like Google, eBay, Walmart, etc. Through the application of Porter's Five Forces analysis, Amazon can recognize the competitive pressures it faces and subsequently devise ways to overcome them.
In addition, Amazon deploys its corporate vision and mission statements as guidance for entities such as Whole Foods Market so that various endeavors from different sectors — including online retailing services, digital content distribution, cloud computing services, software development, and hardware production — may cohere with each other. As a result of this alignment between its principles and products and services, Amazon is able to ensure that all directions lead toward its unified goal.
Amazon Mission Statement
Amazon's mission statement, "to be Earth's most customer-centric company," is a commitment to providing attractive e-commerce services to its customers and emphasizes the importance of customer satisfaction. 
This mission statement drives Amazon's focus on four major factors: the lowest prices, the best selection of goods and services, convenience in e-commerce, and global industry leadership.
Lowest prices
Low prices are one of the fundamental tenets upon which Amazon.com Inc. has built its business, and they are integral to the company's mission statement. To fulfill this promise in a highly competitive market, Amazon has made offering low prices a cornerstone of its strategy.
The cost savings that come from providing customers with reduced prices are achieved through various factors such as scale and efficiency (e.g., consolidation of warehouses for stocking products quickly), customer service automation (e.g., self-service checkouts), and the use of technology such as artificial intelligence and machine learning algorithms to optimize operations, etc. These efforts enable them to minimize operating costs, thus creating room for more pricing flexibility while still being able to generate profits. 
For example, Amazon holds regular "Prime Day" sales where customers can find limited-time discounts on many items throughout the entire store; it is also known for running other sales promotions in the form of coupon codes or special deals on specific product categories during particular periods (e.g., during festivals). This ensures that customers remain loyal by providing them an incentive to return often and furthering their promise of customer-centricity by giving them value for money through lower prices than what may be found elsewhere in the marketplace.
Regardless, however, Amazon places great importance on being price competitive even when promotional activities are not active across all channels at any given time period. They have moved away from fixed pricing strategies based on standard markup percentages towards dynamic pricing tactics wherein the corresponding fees are set according to real-time changes in demand and supply conditions or other events like those aforementioned above, thus maintaining constantly lower prices than competing e-commerce sites whenever possible regardless of whether a sale event is taking place or not.
Best selection of goods and services
Amazon's commitment to customers is demonstrated by its selection of top-quality goods and services. The company aims to provide consumers with a diverse and expansive array of products, guaranteeing that they can find whatever they need in one easy-to-access location.
When it comes to offerings, Amazon provides a vast selection of items supplied by different vendors, including books, apparel, electronics, toys, furniture, home decor, and much more. Not only can customers purchase physical or digital products from the platform, but they can also access streaming content such as films and TV series. Moreover, Amazon offers an array of services, such as Amazon Music for music streaming and Prime Now for online grocery delivery. This comprehensive choice available on the website allows customers to shop with ease without having to switch between numerous websites or applications during their shopping experience.
The selection provided by Amazon also extends beyond standard retail offerings — customers can even purchase subscription-based items such as memberships for streaming content (Prime Video) or book rentals (Kindle Unlimited). Subscription-based options are an important part of today's retail landscape due to the convenience they offer shoppers who want access to multiple options at a lower cost than traditional purchases. By incorporating subscription models into its overall product offering, Amazon further expands its customer reach while providing additional value over rival retailers.
Convenience in e-commerce
Convenience in e-commerce, as Amazon.com Inc.'s corporate mission emphasizes, is an important factor for customers when choosing to shop online. Consumers strive for convenience in their purchases, and the easier a retailer makes the process of finding what they need, the more likely consumers are to use that retailer again. For example, Amazon has created features like one-click ordering that make it simple and quick for customers to order goods from the site without having to go through multiple steps or type out their payment information each time they place an order. This can be especially beneficial when dealing with frequent shoppers who have saved payment methods on file or opt into programs like Prime Shipping, which offers free two-day delivery on many items purchased from Amazon's site. 
Amazon also focuses heavily on providing assistance with product selection by offering reviews and recommendations based upon past purchases or preferences chosen by customers, which can save them time trying to decide between different options in a marketplace full of products. The company also creates ways for consumers to research products right within their app or website, such as by visualizing 3D models of certain items or providing details about specific components of products sold on their platform, so users don't have to search elsewhere online while shopping with Amazon.
Global industry leadership
Amazon's inclusion of "Earth" in its mission statement serves as an affirmation of the company's stance on global industry leadership, denoting its dedication to becoming the market leader in customer satisfaction worldwide. Thus, as part of its corporate mission, Amazon aims to develop innovative solutions that go beyond national boundaries and extend the firm's reach into international markets.
To this end, Amazon has taken several measures to ensure its competitiveness in global markets. The company invests heavily in research and development (R&D) efforts focused on developing cutting-edge solutions and products tailored for customers around the world. It continually strives for innovation through acquisitions and partnerships with other leading companies, such as Whole Foods Market or Twitch Interactive, which allow them access to new channels and customers. Amazon has also placed a special emphasis on customer service by designing various delivery options such as Prime Air drone deliveries or expanding its logistics infrastructure globally with warehouses located in close proximity to consumers throughout numerous countries. 
All these measures are intended to make good on their commitment to achieving international recognition as leaders within their respective industries while creating value for their customers around the globe.
Amazon Vision Statement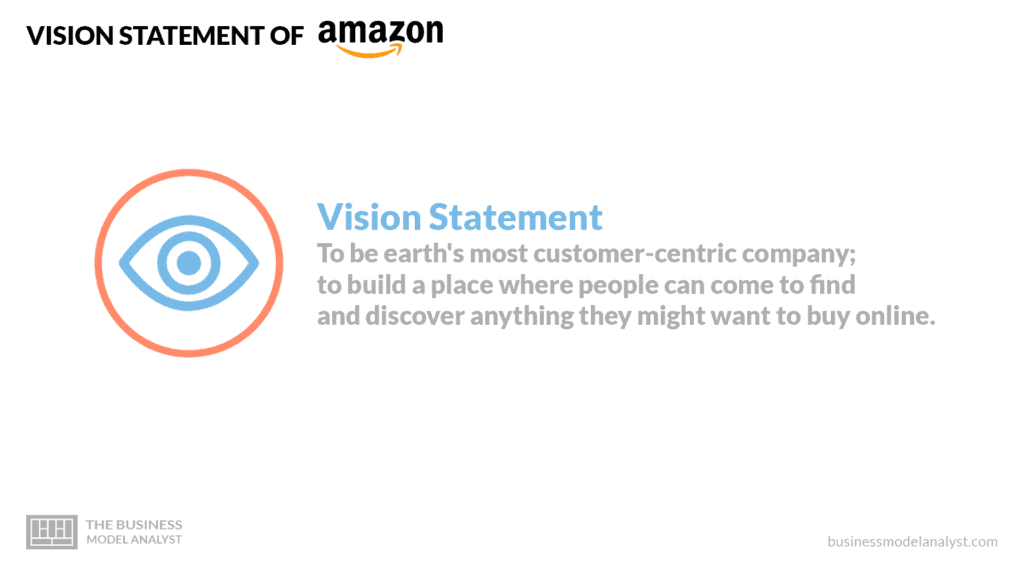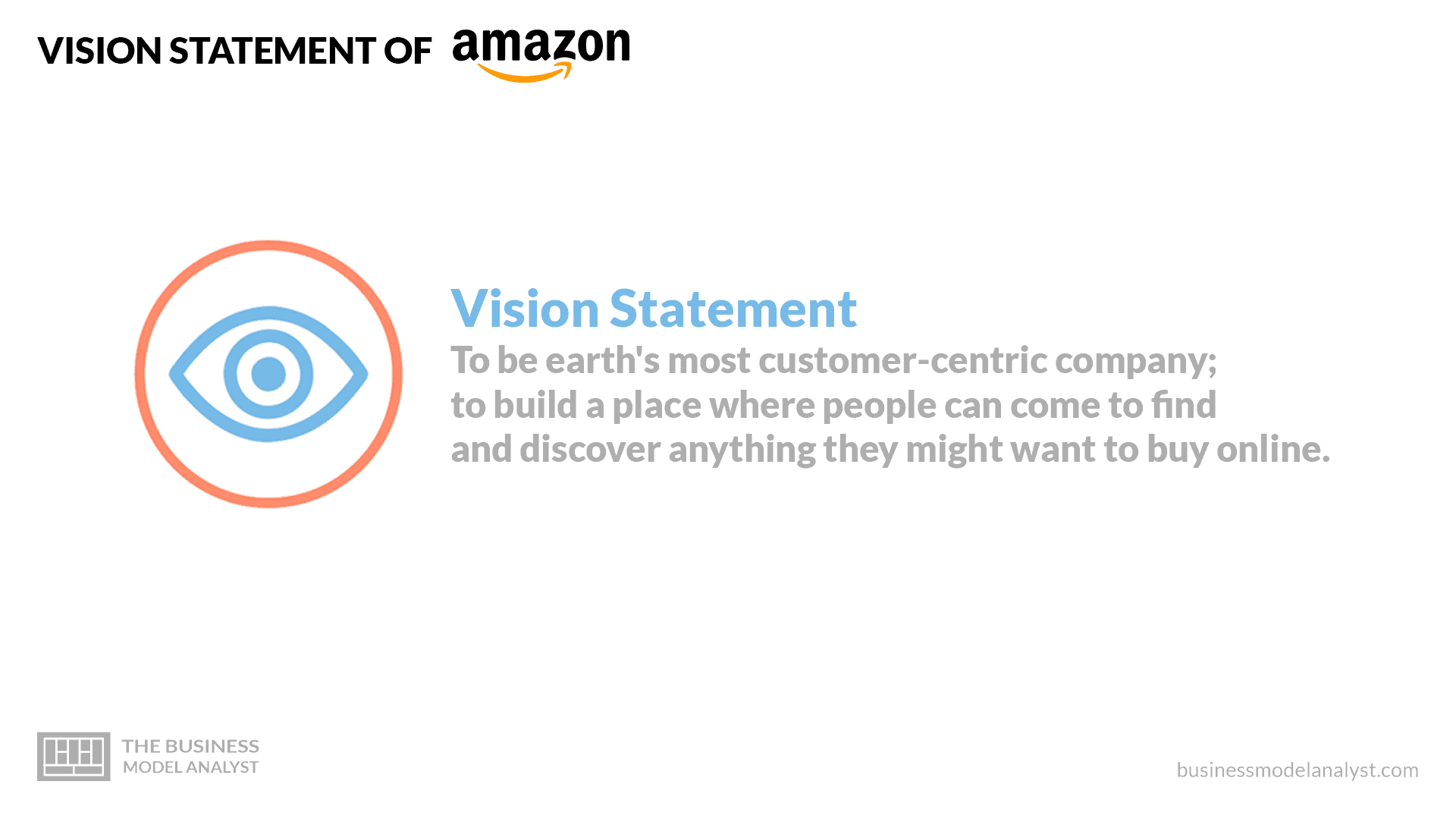 Amazon seeks to be the world's best employer and safest place to work while concurrently striving to be the leading e-commerce company worldwide. Their vision statement entails a strong dedication toward employee well-being and safety, emphasizing core values such as creating a safe work environment, recognizing workers' rights, as well as achieving global dominance in e-commerce. The attributes associated with this goal include:
Global reach
The "global reach" component of Amazon.com Inc.'s vision statement emphasizes the company's commitment to leadership in the global market. In particular, by stating the "Earth" as its market, Amazon.com Inc. implies that it intends to expand globally into different countries and regions around the world. To achieve this goal, Amazon has implemented various strategic objectives related to global expansion and growth through market penetration tactics, which are both included in the company's generic strategy and intensive growth strategies. 
To illustrate, one example of Amazon's global reach lies in their recent expansions into new markets in India and Japan, following successful ventures in more established markets — such as the United States and the United Kingdom — over two decades ago. These achievements exemplify how seriously Amazon takes its global mission of expanding throughout different nations worldwide, with ambition for further advancement across other international territories in the future as well.
Alongside these steps towards achieving a larger international presence, Amazon also pursues an expansive distribution network spanning multiple nations — consisting of warehouses located across several continents (e.g., North America, South America), capitalizing on the increased efficiency that comes with reaching customers more quickly via regional supply chain operations.
Best employer
The "best employer" element of Amazon's corporate vision statement indicates the company's commitment to putting its employees first. They recognize that their staff is integral in achieving success and fostering a positive working environment and culture. As such, Amazon places great emphasis on employee happiness and satisfaction as important priorities.
Amazon shows this commitment in a variety of ways, such as by providing excellent benefits packages to its employees, allowing them flexible work hours, giving stock options and bonuses to reward performance, building a diverse team of professionals with different backgrounds, encouraging feedback from all levels of the organization, actively seeking employee input when making company decisions, listening to workers' needs and concerns through surveys and meetings with management, supporting charitable causes related to employee health and well-being initiatives, and offering meaningful job training for skill development. 
Beyond traditional perks like medical insurance coverage or retirement bonuses, which many companies offer nowadays, Amazon emphasizes creating an inspiring workplace where both individuals and teams can thrive. This includes opportunities for collaboration across departments along with resources for personal growth in order to encourage creativity. The company also supports internal career advancement by providing appropriate leadership training as part of its core values program. In addition, Amazon embraces diversity so that employees from different backgrounds can feel welcomed and appreciated at the workplace while contributing their unique perspectives toward the organization's goals.
These efforts are reflected in numerous awards given out annually by publications like Forbes, which call Amazon one of the "World's Best Employers" year after year — further demonstrating the importance they place on satisfying their skilled workforce. It is not only beneficial for maintaining high-performing talent within the company, but also helps attract potential recruits who see they value people.
Safest workplace
Amazon.com's corporate vision emphasizes workplace safety as a core value for protecting its employees and enhancing the company's image. Amazon has taken several steps to ensure this goal is met, including providing its employees with access to ergonomic tools, ensuring that its warehouses are maintained according to OSHA standards (albeit sometimes forced), and implementing diversity and inclusion initiatives. 
Ergonomic tools are designed to help reduce injury risks caused by excessive bending or poor posture while performing tasks in a warehouse environment. These tools include adjustable desks and chairs, non-slip mats for standing on for extended periods of time, back braces for maintaining correct posture when driving mobile carts throughout warehouses, and other items designed to reduce strain on muscles and joints while working. 
In addition to providing ergonomic solutions, Amazon has ensured its warehouses adhere to Occupational Safety and Health Administration (OSHA) requirements set forth by the Department of Labor, which include: regularly inspecting equipment, providing medical services, posting signs if hazardous materials are present, instituting hearing conservation programs, documenting employee injuries, promoting training/awareness of safety regulations, etc. By adhering to these guidelines, employers can significantly reduce accidents in the workplace, resulting in fewer lost workdays due to injury or illness. 
Amazon has also implemented diversity and inclusion initiatives that promote an open culture where everyone is welcome regardless of gender, identity, or race, among other things. This ethos creates an environment of respect where people from all walks of life feel safe coming into work without fear of discrimination — something that is conducive to productivity and contributes positively towards the overall image of the company both internally (among workers) and externally (among customers), who value such social values when making purchasing decisions about products associated with certain organizations.
Conclusion
Amazon's vision and mission statements demonstrate a commitment to providing customers with unique and valuable products, as well as serving its stakeholders through responsible business practices. By employing both Porter's Five Forces analysis and strategic guidance from their vision statement, the company is able to understand the industry competition better while also keeping its operations consistent across multiple sectors. Ultimately, this allows Amazon to gain an advantage in the industry while working towards long-term prosperity for itself and its stakeholders.