Cobra Gold military exercises resume at pre-pandemic size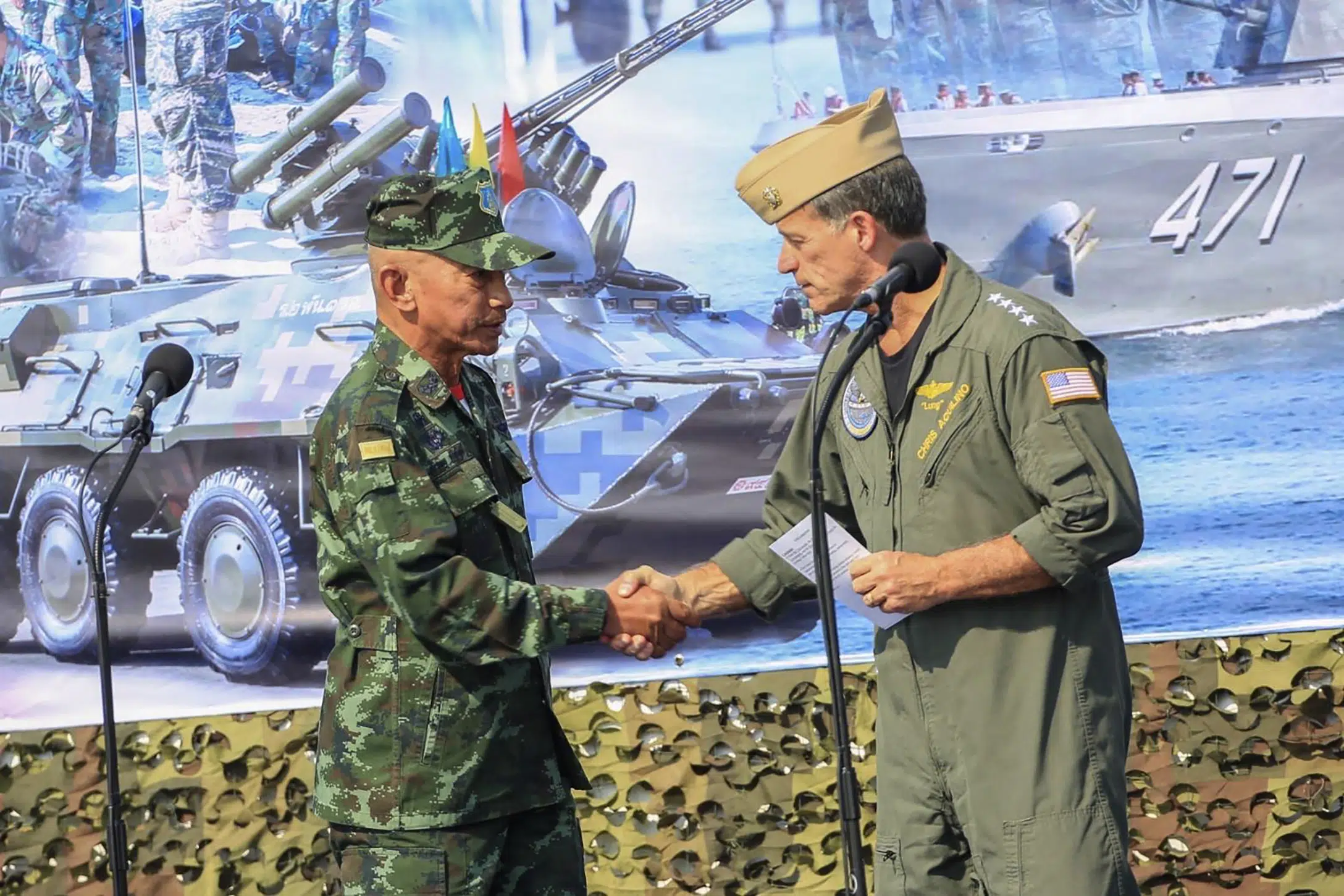 BANGKOK (AP) — Thai and U.S. officials officially opened annual Cobra Gold multinational military exercises on Tuesday, now restored to one of the world's largest following three years of sharp pandemic cutbacks, reinforcing the security alliances of the United States and six Asian nations.
Singapore, Japan, Indonesia, South Korea and Malaysia are full participants in the two-week planning and field exercises, which are co-hosted by the Royal Thai Armed Forces and the U.S. Indo-Pacific Command.
More than 3,800 U.S. troops and 3,000 Thai personnel will participate. But this year's full-scale return comes as relations between the co-hosts have come under long-term strain. Thailand is a traditional ally of the United States but has built increasingly closer security ties with China. There has also been resentment in the Thai military and government over U.S. criticism of military coups that ousted elected governments in 2006 and 2014.
Twenty-three other countries are joining as exercise partners or observers for a total of 7,394 personnel participating in a variety of security and humanitarian drills.
"Today, Cobra Gold is an exercise focused on the future. It brings together 30 countries from around the world to solve complex challenges that no single country can solve alone," U.S Ambassador to Thailand Robert F. Godec said at the opening ceremony at a Thai navy base in the eastern province of Rayong. "Only through cooperation can we rise to these challenges and keep our people safe."
Cobra Gold began as a joint Thai-U.S. maritime exercise in 1982 and has evolved into a much larger operation. It consists of three parts — field training, a "command post" staff exercise, and disaster relief and humanitarian exercises.
For the first time this year, the command post exercise will include training on possible space disasters to "foster understanding of the impacts of aerial phenomenon, such as solar storms, on military operations, communication systems, and satellites, which in turn will help the staff to prepare for these phenomena," organizers said.
The humanitarian exercises include the construction of school buildings at six sites, a "tabletop exercise" to practice coordination in case of natural disasters, and live search and rescue, emergency response, medical evacuation, chemical leak, and firefighting drills.
Field training will consist of an amphibious exercise, a strategic airborne operation, noncombatant evacuation, and a combined arms live-fire exercise.
"Cobra Gold strengthens our ability to plan and conduct combined joint high-end security peacekeeping operations across all domains," Adm. John Aquilino, commander of the U.S. Indo-Pacific Command, said at the opening ceremony. "Through Cobra Gold we demonstrate our resolve to respond together to preserve a free and open Indo-Pacific so that all nations can maintain peace, stability and prosperity."
China, India and Australia are taking part in the humanitarian assistance exercise. Bangladesh, Canada, France, Mongolia, Nepal, New Zealand, the Philippines, Fiji, the United Kingdom and Brunei will take part in planning and executing multinational operations in response to small-scale contingencies other than war.
Observers are attending from Cambodia, Laos, Brazil, Pakistan, Vietnam, Germany, Sweden, Greece, Kuwait, and Sri Lanka.