I enjoy performing under pressure: Richa Ghosh | Cricket News – Times of India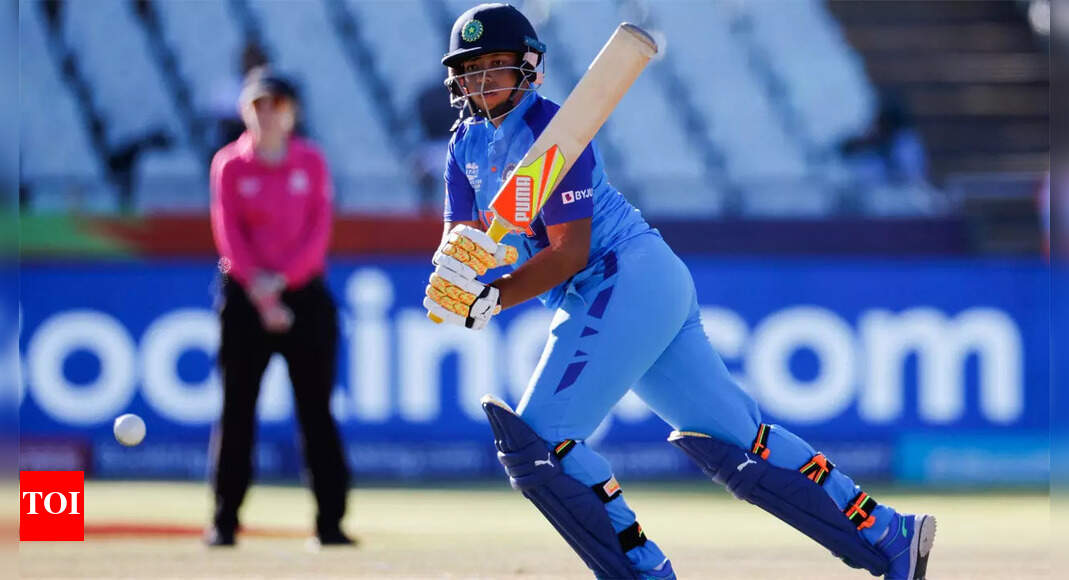 NEW DELHI: Richa Ghosh emerged as a future star of the Indian women's cricket team after making her presence felt in the U-19 T20 World Cup and the senior T20 World Cup.
The 19-year-old wicketkeeper Richa also became the only Indian to find a place in ICC's Most Valuable Team of Women's T20 World Cup. Her aggressive batting during India's run to the semi-finals saw her score 136 runs at a strike rate of 130.76.
Richa now sets her sights on the inaugural Women's Premier League where she will be representing Royal Challengers Bangalore. RCB shelled out Rs 1.9 crore for the swashbuckling wicketkeeper-batter's services at the auction.
She spoke on numerous issues ranging from her struggling days to desire of buying a house in Kolkata. Richa also spilled the beans on her recent success saying the pressure gets the best out of her.
ICC Women's Under-19 T20 World Cup-winner 🏆Member of ICC Women's T20 World Cup 2023 Team of the Tournament 👏🗣️… https://t.co/9b1QYJWcLG

— Women's Premier League (WPL) (@wplt20) 1677590788000
"I enjoy performing under pressure," says Ghosh in an episode of 'Know Your Stars', available on JioCinema, leading up to the Women's Premier League (WPL), that commences on March 4.
Like so many of her peers, Ghosh struggled to find supporters for her cricketing aspirations initially. However, her father's determination ensured she fought her way through the ranks and entered the national reckoning by the age of 16.
"When she started playing, I just thought it would be good for her fitness. I was also around so I could watch over her during my own practice sessions. I suggested table tennis to her, and I took her to the local academy for a trial. She hit a couple of balls and put the racquet down and said, 'I will only play cricket'," revealed her father, Manabendra Ghosh, on the show.
Ghosh, who was part of the team that won the 2023 U-19 T20 World Cup also shed light on her struggles to make it big in the game. "In the beginning, not a lot of people from Siliguri supported me. I was not getting a chance to break through in my district… The difficulties they (my parents) endured from people during those times… today the same people come and socialize with them. My parents are happy that whoever troubled them then are the ones coming now to enquire about her."
Such was Ghosh family's commitment to fulfilling their daughter's dreams that Manabendra sold his business to support her career. "I didn't want to make an excuse that because I was busy running the business which brought us income, I could not support her career. Now that I shut down my source of livelihood, I am free, so wherever she needs to go, I can accompany her," he explained.
Now that Ghosh has become one of the most sought-after players, she wants to utilize the money wisely. "I want to buy a flat in Kolkata where my family can settle down and enjoy their lives because they've struggled a lot. My father still umpires games and after this (WPL), I don't want him to work. From now, me and my sister, both of us will work hard and let our parents enjoy their life."
She spoke of her admiration for big hitters. "I used to really like players who hit sixes to win matches. I felt like I also wanted to hit those shots," said Ghosh. Well, she will get ample opportunities to fulfil this wish during the WPL!
(With ANI Inputs)