Rockets vs Warriors Picks, Predictions & Odds Tonight – NBA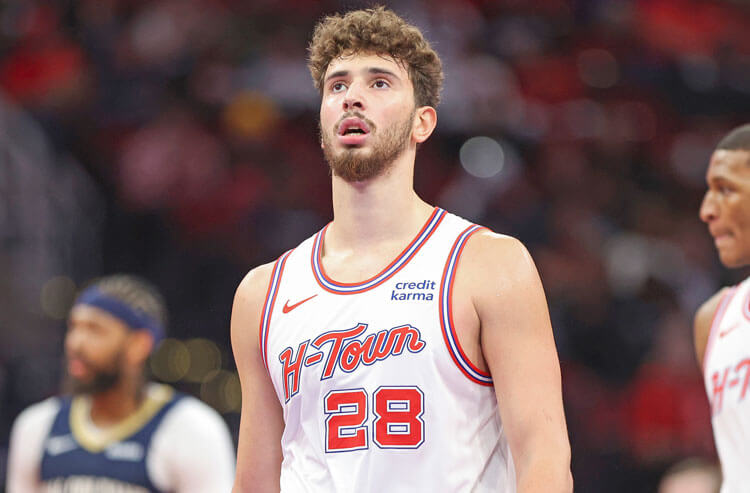 Desperation is the theme of the matchup on Monday, November 20 between the Houston Rockets and the Golden State Warriors. 
Both teams are coming off excruciating losses, with the Warriors falling to the one-two punch of Chet Holmgren and Shai Gilgeous-Alexander on Saturday night, while the Rockets fell short in overtime yesterday evening as LeBron James turned back the clock yet again.
While the Rockets are trying to stop a two-game skid, the Warriors are trying to end a staggering six-game losing streak.  The NBA odds are in the Golden State's favor, but these are not the Rockets of old.
Our free NBA picks for Rockets vs. Warriors think Alperen Sengun is in for a productive night with Draymond Green sidelined.
Rockets vs Warriors odds
Rockets vs Warriors predictions
The Houston Rockets are one of the best stories of this season. The season is still young, but it appears a franchise that's been mired in disappointment since James Harden's departure has finally begun to find its footing.
To paraphrase Tacticus, success has many fathers. And there's credit to go around, beginning with free agent additions of Fred VanVleet and Dillon Brooks as well as the change at head coach. Bringing in Ime Udoka alongside Brooks and VanVleet has transformed the character of this team overnight.
However, the biggest schematic change on offense has been the most obvious: give the ball to your best player more. Except it wasn't always clear to everyone in the Rockets organization who their best player was. 
Well, it's clear now. Alperen Sengun, 21-year-old former MVP of the Turkish Basketball League, is the top dog.
Despite being taken later in the draft than Jalen Green, Jabari Smith Jr., and Amen Thompson, and also not having the accolades or playoff success of a Brooks or VanVleet, this is Sengun's team, finally and unquestionably.
Sengun has taken a major leap in nearly every aspect of his game: he's scoring more and more efficiently, he's passing at a career-best rate, and his defense has improved enough to where he can be the full-time center on a squad that is currently third in defensive rating, per Cleaning the Glass.
Much of Sengun's success stems from increased opportunity. Udoka has empowered him to play a similar role to Domantas Sabonis, operating as a hub on offense, with shooters working off and around him. 
Sengun is a creative passer and his size allows him to survey the court and throw passes that most players cannot even see. Sengun's assist rate is 30.7% this season, 96th percentile among all bigs, up from 19.9% last season.
Part of it is also that his teammates are better equipped to take advantage of his playmaking. Kevin Pelton of ESPN noted that the Rockets are converting 78% of Sengun's potential assists this season compared to 58% last year. He was a hub before, but now he has actual outlets in Fred VanVleet and Dillon Brooks to cash in on those opportunities.
He's also being used as a consistent pressure point on offense. One of the Rockets' go-to plays this season is using a wedge screen to free up a pass into the post for Sengun, who then can either back down his man and draw two or turn and fire over a smaller player. If no help comes, he's more than happy to back his man down and hit them with his patented hook shot.
He's shooting 73% at the rim and 55% from the midrange. If he gets inside the arc, he's nearly automatic. He's averaging 20.1 points per game but has scored 23+ in four straight.
He's become so good that the Rockets are trusting him to make the plays in crunch time now, and while they lost to the Lakers and Clippers over the last two games, Sengun scored a tying or go-ahead basket in isolation at the end of both.
The Golden State Warriors are also a tiny team. Without Draymond Green, they're relying on Kevon Looney and Dario Saric to soak up all 48 minutes at center. Looney looks like he's either hurt or lost a step this season, and Saric has never been an elite defender.
At the level Sengun is playing at right now, I think he's going to eat the Warriors alive inside the arc.
My best bet: Alperen Sengun Over 23.5 points + assists (-125 at SIA)
Rockets vs Warriors same-game parlay
In addition to liking Sengun's playmaking and scoring prop at -125, I'm looping in the Under at 220 as well as Klay Thompson's points prop Under.
I believe this is going to be a low-scoring game. The Rockets have the ideal personnel to make life hard on Steph Curry in Brooks and VanVleet, and the rest of the Warriors are looking shaky on offense. 
While in the past a back-to-back would make me nervous with this Rockets squad, this group is different. Once weak and disorganized, this team plays hard every night. I don't feel any worry that Brooks' focus will be anywhere other than hounding Steph on ball 94 feet, and VanVleet is waiting in the wings if he gets into foul trouble.
Klay has had a miserable start to the season, and it's sparked frank conversations about how much he has left in the tank. In his day, he was one of the NBA's best scorers, a playoff terror, and capable of hitting this prop in 60 seconds or less.
However, that day may be past, and against a team as solid on the perimeter as Houston, I don't expect a breakout performance from Thompson on Monday.
Learn how to bet a same-game parlay with these helpful tips and strategies.
Best NBA bonuses

 All Users
No-sweat 3+ leg SGP every day
Bonus bets back if your wager doesn't win! Claim Now

New Users
Get up to $1,500 bonus bets back
If your first bet doesn't win! Claim Now
Eligible USA locations only. Also, see our full list of best sportsbook promotions for 2023.
21+. Gambling Problem? Call 1-800-GAMBLER
Rockets vs Warriors spread and Over/Under analysis
The Warriors opened as 6.5-point favorites over Houston, and that line has risen as high to as high as -7.5 before falling back to where it is now, between -6.5 and -7. A huge element of this spread is that this is a road back-to-back for the Rockets, but I wouldn't just go ahead and cross this off as a schedule loss for Houston just yet.
The Warriors are confounding. Last year, they could never find a way to win on the road but dominated at home. Somehow just the opposite is true this season.
They're on a six-game losing streak, and they're also a miserable 1-6 against the spread at home this season. The Rockets have the personnel to slow Steph and Sengun's advantage on the inside makes this a tough matchup in Green's absence.
Monday's total opened at 221.5, that's fallen to where it's currently available between 219.5 and 220.5 this morning.
Once upon a time, the Rockets were the team circled on the calendar by every up-and-coming NBA star as a potential date to earn their new career high in scoring, but Udoka's new defensive scheme — focused on aggressive ball pressure — has turned them into a stout defensive outfit. 
Brooks and VanVleet are an outstanding backcourt defensively and are more than good enough to make up for weaker inclusions like Jalen Green. They're a big part of the reason the Under has cashed in eight of Houston's 11 games this season.
While Sengun isn't a stopper, he's far from the tire fire he's been painted as. He's quick, he's smart, and he cares. That goes a long way when you're 6-foot-11. 
Jabari Smith Jr. clearly takes pride in the defensive end and makes for an intriguing frontcourt pairing with Sengun. He's capable of playing the four or the five on offense and defense, can take the more difficult assignments, switch onto the perimeter, or act as a weakside shot blocker. 
Rockets vs Warriors betting trend to know
The Under is 8-3 in Houston's last 11 games. Find more NBA betting trends for Rockets vs. Warriors.
Not intended for use in MA.
Affiliate Disclosure: Covers may receive advertising commissions for visits to a sportsbook or betting site.
Rockets vs Warriors game info
| | |
| --- | --- |
| Location: | Chase Center, San Francisco, CA |
| Date: | Monday, November 20, 2023 |
| Tip-off: | 10:00 p.m. ET |
| TV: | NBCS-Bay Area, Space City Home Network |
Rockets vs Warriors latest injuries

Stay updated with the latest picks, odds, and news! Tap the

to add us to your favorites on Google News to never miss a story.
Pages related to this topic