Travis Barker shares heartbreaking health update with fans after Kourtney Kardashian's emergency fetal surgery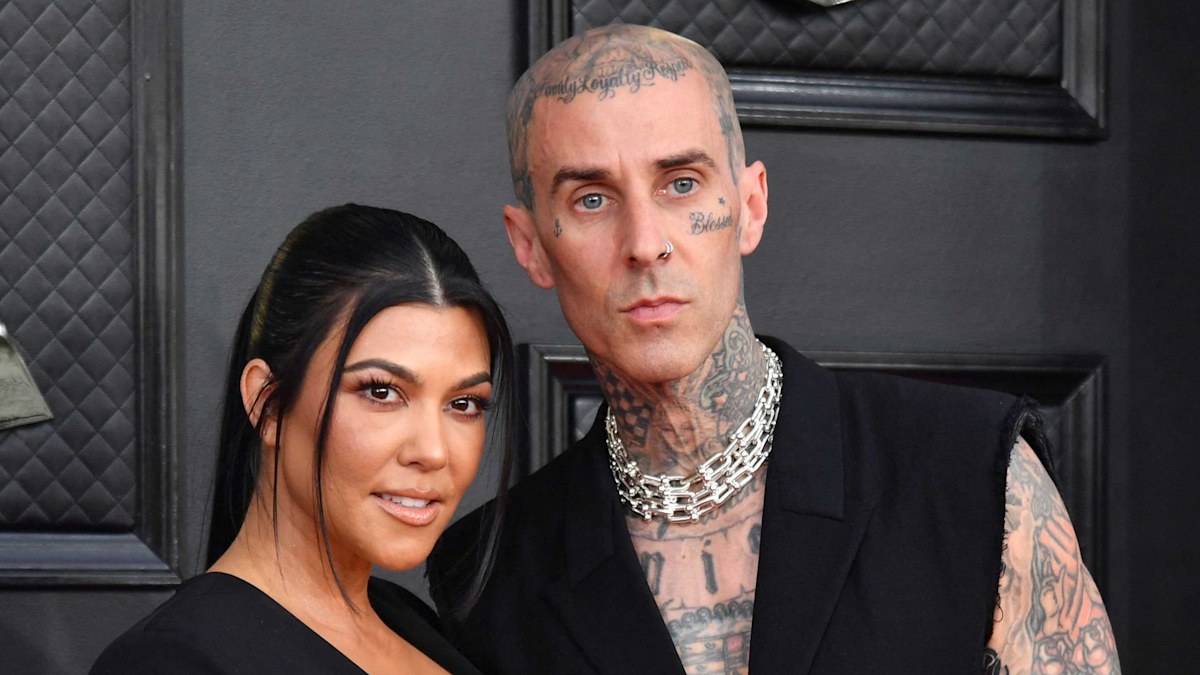 It's been quite the month for Travis Barker. The Blink 182 drummer has revealed that in the past week he has undergone dental surgery, been diagnosed with COVID-19 and was hit by an episode of trigeminal neuralgia. 
This all comes as he has also been doting on his wife Kourtney Kardsashian, who is pregnant with their first child and recently underwent fetal surgery.
"Also last week I had covid, an episode of trigeminal neuralgia, and a root canal. Which means I can pretty much handle anything god throws at me," Travis tweeted on Friday September 29. Trigeminal neuralgia is a treatable condition that causes "painful sensations similar to an electric shock on one side of the face", according to Mayo Clinic.
His tweet on X, formerly known as Twitter, came a week after he and Kourtney held their luxury baby shower with celebrity friends and family all in attendance. 
Travis wore a mask as he had COVID-19, as revealed by his stepdaughter with ex-wife Shanna Moakler, Atiana de la Hoya, who shared a photo of her dad and Kourtney's compromise for him to be able to join the festivities. The pair enjoyed a Disney-themed shower, including a red apple wishing tree, Mickey Mouse balloons, and Disney-themed food buffet. 
Sister Kim Kardashian and her daughter North West were there, as well as Kourtney's mom Kris Jenner.
But their celebration came after a harrowing few weeks, which saw Travis rush home from the United Kingdom, where he was on tour with his band, so he could be by Kourtney's side as she and her baby underwent emergency surgery. 
In an emotional statement posted on Instagram, the soon-to-be mom-of-four thanked "the incredible doctors for saving our baby's life," and revealed that her baby boy was "safe". 
The couple, understandably, did not disclose further details about the procedure or what prompted it. 
"I will be forever grateful to my incredible doctors for saving our baby's life," she wrote. "I am eternally grateful to my husband who rushed to my side from tour to be with me in the hospital and take care of me afterwards, my rock," adding: "And to my mom [Kris Jenner], thank you for holding my hand through this." 
Kourtney then explained: "As someone who has had three really easy pregnancies in the past, I wasn't prepared for the fear of rushing into urgent fetal surgery." 
She went on: "I don't think anyone who hasn't been through a similar situation can begin to understand that feeling of fear. I have a whole new understanding and respect for the mamas who have had to fight for their babies while pregnant." 
The Lemme founder concluded: "Praise be to God. Walking out of the hospital with my baby boy in my tummy and safe was the truest blessing." 
Fetal surgery is relatively new, and is the surgical treatment of a fetus as it remains in the mother's womb. Surgical intervention in this way is often carried out in order to correct any health problems that may be too advanced to repair after birth. It becomes an option when your doctor believes that the fetus may not live long enough to make it to delivery or long after birth.