UN Conference on Disarmament 27 February 2023: Minister for Europe statement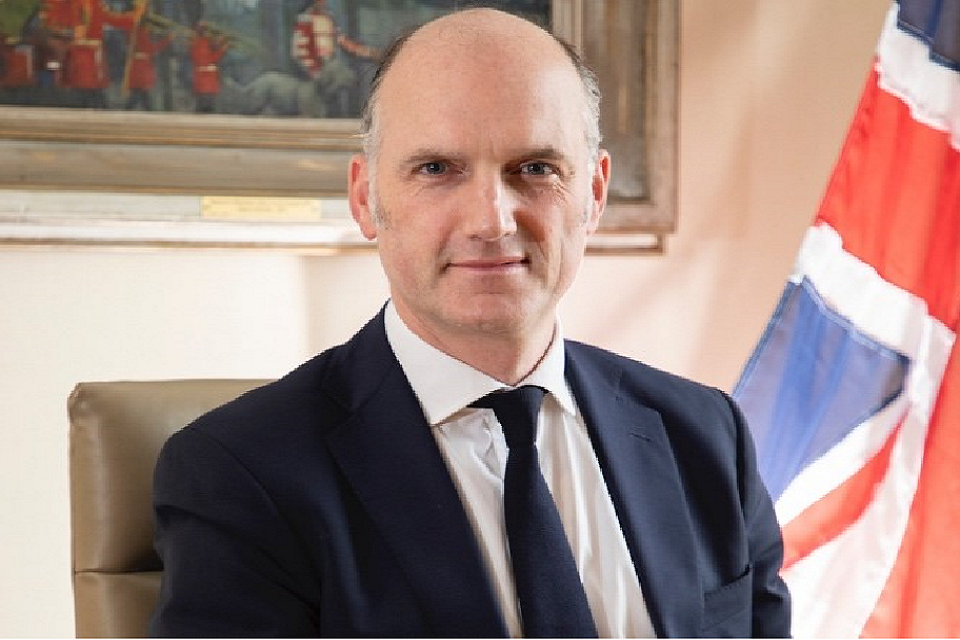 Every member state of this Conference has the responsibility to work towards a more peaceful and stable world, through disarmament. For the vast majority represented here, that is indeed our shared objective.
But all too often, we see some States doing the opposite.
It is over a year since Russia launched their illegal invasion of Ukraine.
It is an unprovoked, premeditated and barbaric attack against a sovereign democratic state.
And an egregious violation of international law and the UN Charter.
We continue to see mounting evidence of horrific acts committed by Russia's forces against civilians.
The UK and our allies will continue to support the Ukrainian government in the face of this assault on their existence.
Russia's announcement last week that it has suspended participation in the New START treaty further shows their willingness to undermine strategic stability.
We continue to urge Russia to immediately return to full compliance of the Treaty and engage constructively with the USA on this matter.
We will continue to explore every diplomatic avenue to uphold international law, and strengthen our collective disarmament architecture.
In addition to major nuclear armed states willing to flout international norms of behaviour, we collectively face a range of challenges.
We face continuing proliferation concerns about the activities of the Democratic People's Republic of Korea and Iran.
We are concerned with DPRK's continued escalation of its nuclear and ballistic missile programmes. We condemn these tests which are in clear breach of United Nations Security Council Resolutions.
We face Assad's willingness to use chemical weapons.
And emerging threats posed by new and disruptive technologies.
To overcome these we must refresh our thinking, and redouble our commitment to build on the foundations of our common disarmament and non-proliferation institutions.
The Nuclear Non-Proliferation Treaty – or NPT – remains the cornerstone of international nuclear security. And the only pragmatic route to a world without nuclear weapons in our current security environment.
The UK remains firmly committed to the NPT, and to fulfilling our obligations under all three pillars of the Treaty.
We remain committed to the long-term goal of a world without nuclear weapons.
And firmly believe the best way to achieve this is through gradual multilateral disarmament, negotiated within the framework of the NPT, including in this Conference.
Collectively we have the ability to create a safer and more stable world, where countries with nuclear weapons feel able to relinquish them.
However, the deteriorating security environment means we must remain realistic about what can be achieved in the short term.
The UK is focused on preparing the ground for what can pragmatically be achieved over the next NPT review cycle and beyond.
We are working with other States on the verification and irreversibility challenges, which will need to be addressed as part of final disarmament.
We will continue to play a leading role on transparency, within the limits placed by our non-proliferation obligations and our overarching national security concerns.
We will continue to develop concrete initiatives on reducing the risk of the use of nuclear weapons.
And we will continue to press for the entry into force of the Comprehensive Test Ban Treaty.
And the beginning of negotiations, in this Conference, on a Fissile Material Cut-off Treaty – the logical next step along the road to a world without nuclear weapons.
Mr President,
We only have to look to President Putin's assault against Ukraine…
and Assad's on his own people…
and the lives blighted by the illicit trade in small arms and lights weapons across the world…
to realise that the use of conventional and chemical weapons remains a present, real and urgent threat.
The diversion and misuse of conventional weapons – particularly small arms and light weapons – costs hundreds of thousands of lives every year…
destroys security and sustainable development…
and fuels conflict, crime and terrorism.
The effective control of conventional weapons and ammunition should therefore be a goal that unites us all.
The United Kingdom was proud to sign up to the Political Declaration on Explosive Weapons in Populated Areas in Dublin in November. I warmly commend the Government of Ireland for its leadership in this endeavour. As Putin's missiles rained down on Ukrainian homes and civilian infrastructure, the Declaration is a powerful commitment to strengthening the protection of civilians in urban warfare under International Humanitarian Law.
The UK will continue to play a leading role in tackling the scourge of landmines, cluster munitions and other explosive remnants of war, including as a result of the conflict in Ukraine.
We must also do more work together to counter IEDs, and prevent non-State actors and violent extremists from obtaining the components to make them.
The United Kingdom condemns Syria's use of chemical weapons in Douma and in multiple other attacks.
It is time for the disarmament community to move from severe condemnation to severe consequences, for those that use them.
The UK will continue to work for a world free from chemical and biological weapons, and we urge all states to play a constructive part in this process.
As the Biological Weapons Convention nears its 50th year in force, the UK will strive to make the most of the process we all agreed at last year's Review Conference to bolster our implementation of this Convention. It represents a once-in-a-generation opportunity to meet the evolving threats from biological weapons in the 21st century. We must seize it and endow the Convention with the scientific and technical advice it needs, and explore ways in which new technologies can help assure compliance with its obligations.
Mr President,
Just as the threats we face in the nuclear, biological, chemical and conventional domains have evolved, so it is in outer space.
We are pleased to see progress in the Open-Ended Working Group on reducing space threats through norms, rules and principles of responsible behaviours.
All of our societies and economies rely on a cooperative approach to the use of technologies in space.
So we encourage all states to engage constructively and work towards a consensus report, that can inform next steps in the UN General Assembly.
This Conference also has a vital role to play in negotiating agreements on preventing an arms race in outer space, whether legally binding or otherwise.
To conclude, Mr President.
The UK is firmly committed to playing a full role in advancing the international disarmament agenda.
And we are grateful for the cooperation of all partners who approach these thorny issues constructively, and with integrity.
Let me point out that many of those partners are not members of this Conference, and are being barred from taking up their rightful seats as observers by the Russian delegation. We deplore this obstructionism, and call for all UN Member States to be allowed to participate in the work of this Conference as has long been our practice.
The challenges facing our collective work are monumental.
We must take a constructive and open-minded approach to finding new solutions to old problems.
But we must also stand by the frameworks and agreements that we have so painstakingly built.
And hold all states accountable to agreed norms and standards, and the commitments they have made.
Thank you.