Vroom, Vroom… Race cars to burn rubber at night – Times of India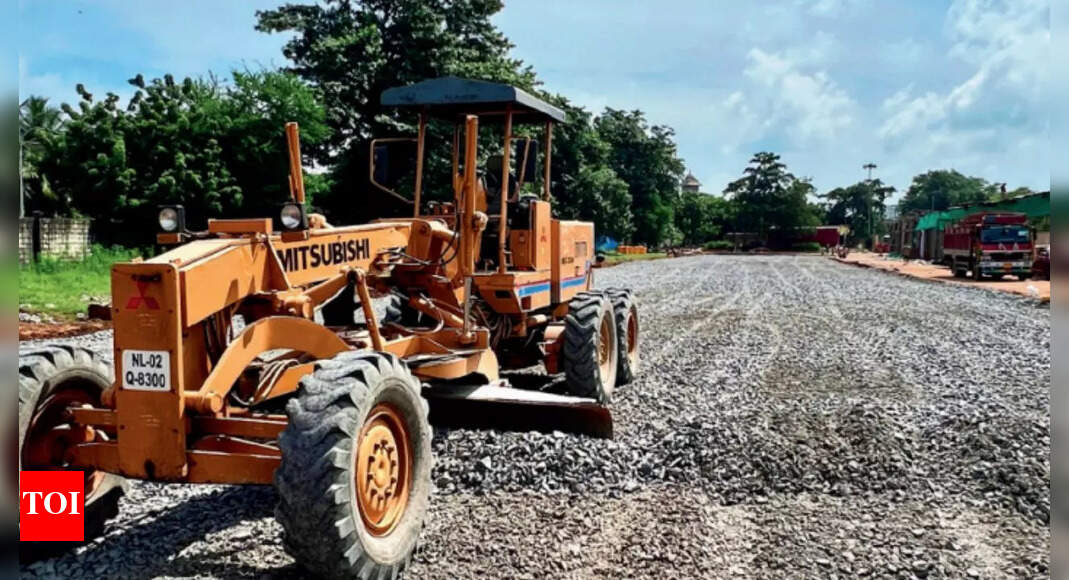 Giant machines are working overtime, drilling holes on road, pulling down centre medians and erasing pavements around Island Grounds as Chennai prepares to play host to the firstever F4 night street-racing event in India, a Rs 240 crore extravaganza.
The 3.5-km Chennai Formula Racing Circuit route – Flag Staff Road, Anna Salai, Sivananda Salai and Kamarajar Salai (Napier Bridge) – resembles a war zone now.There are just 15 more days to put together a racing track where more than a dozen drivers from India, Switzerland, United Kingdom, Australia, Malaysia, and South Africa will race at speeds up to 220kmph. There will be two events -Indian Racing League and F4 Indian Championship -on December 9 and 10.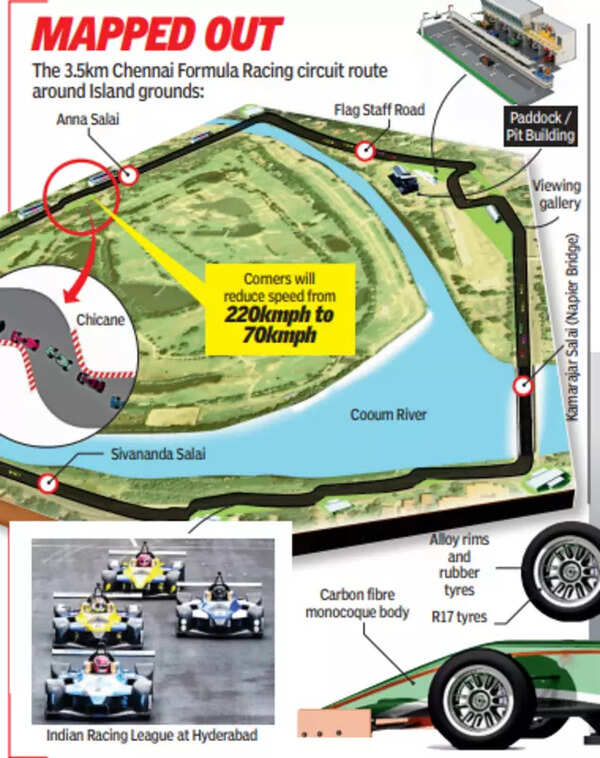 Centre medians, streetlights, pavements and drains on the route are being removed to make the roads racefriendly. "Usually, roads have a mini hill like structure with two cambers (slopes) on left and right lanes (40mm) with a taller centre part of 80mm. Race tracks will be flat with road height being 2% higher on the right lane (driver's side)," said corporation chief engineer S Rajendran.
Chicanes (a sharp double bend for vehicles to slow down and overtake) have been set up at four locations while there will also be 19 corners to make the game more challenging. A 90-degree bend chicane has been placed at the Munro statue where vehicles from Anna Salai would have to instantly slow down from 200kmph to 50kmph.
Viewing galleries are coming up at 11 locations with a total capacity of 10,000 people. Steel galleries with 200 to 500-seat capacity each have been planned at sharp turns and long-stretches on Anna Salai, Munro Statue, Periyar Statue and Sivananda Salai. These stands will be 100 metres from the 13-metre-wide race track for a good top-view.
Noting that Napier Bridge is sturdy enough to bear F4 cars, which weigh 535kg each, corporation officials said the track part would be open for normal traffic and the concrete safety walls would be demolished after the event. The medians would be reconstructed.
This has prompted some experts to say the high-cost circuits could have been set outside the city. Sampath Kumar, highways and transportation professor with Sathyabama University, said if they had set up the circuit outside the city, it would not have to be altered again.
But such views have not dampened the spirits of sports lovers. Aditya Patel, a GT tournament global racer, said, "Bringing street-racing to Chennai will make young people aspire to reach F1." Rishon Rajeev, an 18-year-old F4 driver from Bengaluru, who will take part in the event, said it would help him have a shot at global F1 race through super licence points.
B Abhinandan, director, Racing Promotions Private Limited, said they had viewing stands at Island Grounds just above the paddock for the best view. Tamil Nadu government has signed a three-year MoU with RPPL to hold events on the Chennai circuit